<![if !vml]>

<![endif]>
CHUCK...
FULL NAME: CHARLES ELIAS WELLS
AGE: 26
OCCUPATION: UNEMPLOYED WAITER
FAVORITE MOVIE: APOCALYPSE NOW
FAVORITE BAND: THE CLASH
SEXUAL ORIENTATION: HETERSEXUALLY FRUSTRATED
FAVORITE PEOPLE: JAMES AND THE GIRLS
FAVORITE FOOD: PHILLY CHEESE STEAK SANDWICH (AUTHENTIC)
GOALS IN LIFE: LEARNING AND UNDERSTANDING
FAVORITE COLOR AND WHY: BASIC BLACK
LAST DREAM YOU REMEMBER: NIGHTMARE ABOUT THE F.B.I.
FAVORITE ITEM OF CLOTHING: STUCK WITH THE SHIRT BECAUSE OF A BET WITH JAMES
BRAND OF CIGARETTES: NEWPORT
ZODIAC: TAURUS
VICES: TOO MUCH BEER AND SMOKE
PERSONAL STATEMENT: ALL YOU NEED TO FEAR AND LOVE COMES FROM WITHIN
Chuck is your all around good guy. He always has a cigarette if you need one, and a shoulder to cry on if you should need that, too. He is very close to his best friend, James. They form their own tribe. One thing that Chuck is very good at is giving advice, but no one is every smart enough to take it to heart. If everything is in chaos you can be sure that he will be the anchor holding onto sanity and reason. He has an inexplicable dread about Vivian, and it remains to be seen if these two are arch enemies or cut from the same cloth. (or both) His natural chivalry is being tested by such close living quarters with five beautiful women. Like everything, he makes the best of it.
<![if !vml]>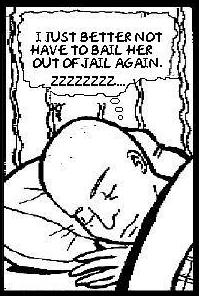 <![endif]>